Databases are essential for organizations; however, a lot of people or organizations avoid using databases. Instead, they use spreadsheets as a substitute because most databases require SQL scripting skills. But with Airtable, you get an easy-to-use database system that doesn't require you to have any SQL scripting skills.


What Is Airtable?
So, the question is 'What is Airtable?'. In simple terms, Airtable is a cloud collaboration tool or online platform which you can use for making and sharing databases. With Airtable, you can create databases in no time.
Moreover, you can save, arrange, and consort any information with Airtable. Some of this information includes

Employee directories
Emails
Inventories
Besides, you do not need to have any knowledge of SQL scripting before you use it. We also like that it is colorful, easy to use, and has a simple interface. In light of this, Airtable is a tool that almost everybody can use.


Who Is Airtable For?
Airtable is for anybody, everybody, or any Organization that has problems with organizing. Unlike some other databases that only target or address businesses, Airtable targets individuals too. Importantly, Airtable is for people that are comfortable using spreadsheets.


What Are The Key Features Of Airtable?
Below are the key features of Airtable


Pre-Made Templates To Help You Create Your First Database Quickly

Creating an Airtable workspace can be a daunting task, especially for people new to databases. However, what Airtable does is that it provides hundreds of pre-made templates to help you create your first database. There are lots of templates to choose from to suit your needs.
You can find personal project templates, real estate templates, marketing templates, sales & customer templates, and many more. Rest assured that regardless of what you need the database for, there's always an Airtable pre-made template that will work for you.


Airtable REST API
Airtable REST API allows you to integrate the different functions of Airtable with other applications through JSON. Besides, with Airtable's API, you can create, read, update, and destroy records. You can also read more about Airtable's API documentation on their website.


Custom Views For Different Applications
Airtable also allows you to customize views for different applications, which traditional spreadsheets can't do. With Airtable, you can customize views for every user of a workspace. It means that you can make different workspace collaborators see only the tasks assigned to them. Not only that, but you can also customize a table to hide some fields. This, in turn, makes navigation through tables easier.
In general, what Airtable views give you is the ability to create different views to suit your organizational/individual needs. This guide to Airtable's views can help you understand views better.


Document Storage keeps Project Files In One Place.
Airtable's document storage helps you keep project files or attachments in your database records.
Here is the list of things you can use the document storage for:

To save pictures
To save videos
For saving spreadsheets
To save PDF files.
Lest we forget, the storage spaces vary with the pricing plan you choose. You can get 2GB of storage space with the free plan and up to 1 terabyte of storage space with the Enterprise plan.


Airtable's Project Management and Tracking
Airtable offers project management and project tracking in so many ways. Some of them are listed below.

Resource Management: With Airtable, you can keep a tab on the resource or workforce available for your team.
Schedule and Prioritize Tasks: Another feature of Airtable's project management system is that you can use it to schedule and prioritize tasks. Users of Airtable will be able to set/choose tasks according to priority level.
Track Time: You can use Airtable's time tracker to measure the amount of time spent working on a task. Furthermore, you also get to add collaborators to the tasks, which gives you an insight into the time it takes the team to complete a project.
Airtable Integrations
Airtable integration allows you to connect Airtable with a lot of popular websites and applications. Some of the apps which Airtable can integrate with include Asana, Facebook, Gmail, Basecamp, MailChimp, Stripe, etc. Moreover, if your preferred integration isn't part of Airtable's 1000+ supported app and websites, you can always request the integration.


Using Airtable Forms
Airtable forms are another key feature of Airtable. It allows you to gather information and collect survey results from different sources. Airtable forms are also easy to use as they are auto-generated from your already existing tables.
Since all the gathered information or survey results are in Airtable's database, you can easily:

Sort fields
Rearrange fields
Remove fields.
Finally, with Airtable's Pro plan, you can always customize your forms to include a cover picture or logo.


How To Use Airtable As A Database
A database is a collection of information that you need for your projects. You can use Airtable as a database. The good thing is that Airtable has lots of templates that you can use to create databases. These templates give you already populated sample data which you can edit to suit your needs.

If you want to select a template to use for your database, start by clicking + Add a base from the homepage, select the preferred template and click Use template. We will be choosing the Employee directory template here. It shows the different information about employees.


A database has Tables, and tables are used to hold data or information about an item. There can be multiple tables in each base.


Records are rows in each table. A record is an individual item on the table. In the employee directory table, each record or row is the name of a particular employee.


You can customize the tables, fields, and records as you deem fit to collect your database's required data. The good thing about Airtable databases is that it automatically saves your entries. This means you do not have to worry about forgetting to save your entries.


Airtable Tutorial
We will be showing you how to do some specific things/actions on Airtable. Stick around as you might learn a few things in this Airtable tutorial.


How To Make An Airtable Account
Making an Airtable account is simple. Visit Airtable's signup page and fill in your information for signing up.


After signing up, you will get a confirmation mail from Airtable to confirm your Email. After confirmation, your Airtable account will be officially live.


Choosing Airtable Templates
Airtable also has hundreds of templates to choose from to get you started. Regardless of what you need Airtable for, there's an Airtable template for you. You can also select your preferred category from the menu on the bottom left corner of the page.

For example, we have selected the Employee directory template. Click Use Template to use the template you have chosen. You should use this process to choose any template of your choice.

Importing A Spreadsheet
If you want to import already existing spreadsheets or data, you have four options:

Choose a CSV file.
Upload an Excel document.
Use spreadsheet from Google sheets.
Paste a spreadsheet.
Starting A Base From Scratch
Starting a base from scratch means you want to create an entirely new base to work on. Tap Create base to begin creating a base from scratch.


Below is the base you have created. You can edit/customize the base to suit your needs.

Editing The Created Base
Fill in data into the spreadsheet. You can also add notes, attachments, and status to each item.

Adding More Fields
You can also add more fields to the table by clicking the + sign next to the existing fields.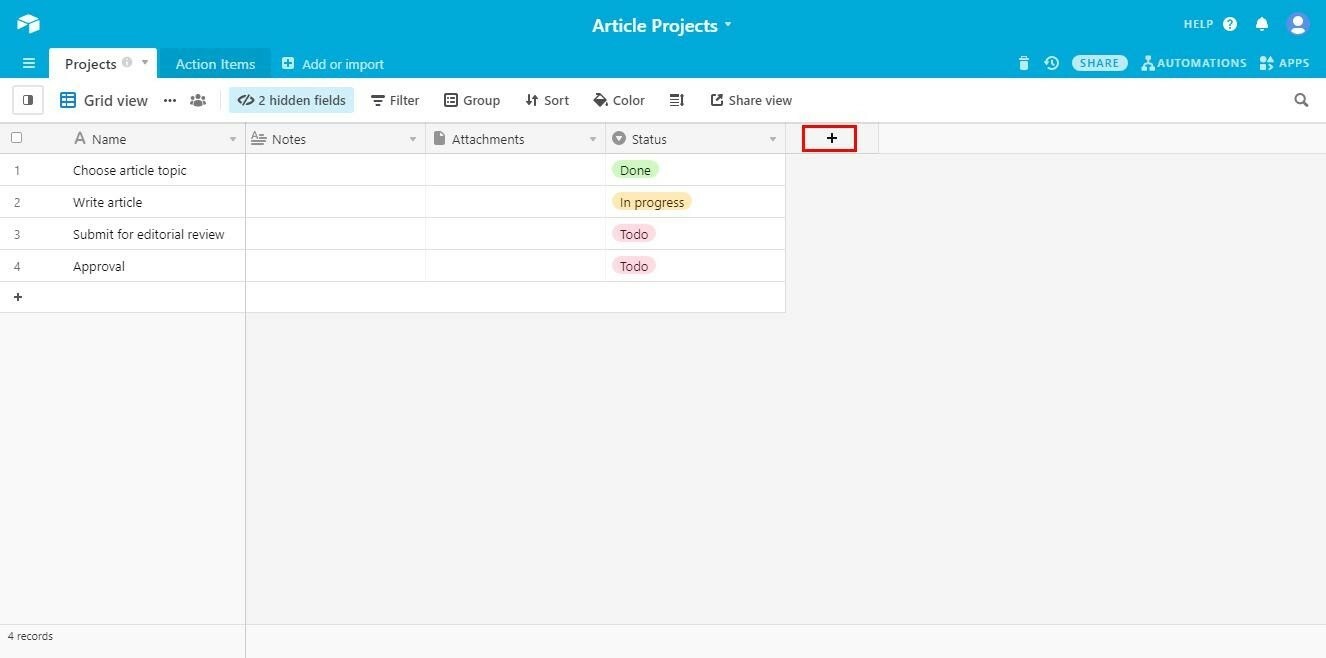 Select the field you want to add from the drop-down menu shown.

Adding or Importing Tables
If you need another table, click Add or import to add an empty table or import a table.


To create an empty table, select Create empty table


Select Import data to import a table or data into airtable

Creating Relationships Between Tables
Creating relationships between tables is also easy. All you have to do is tap the + sign next to the fields to add another field.


Proceed to select Link to another record.


Select the table you want to link the current table with.


Switching between tables is also easy. All you have to do is to tap the names of the tables to switch to them.

Organizing Tables By Fields
Finally, to organize your tables by various fields, click Sort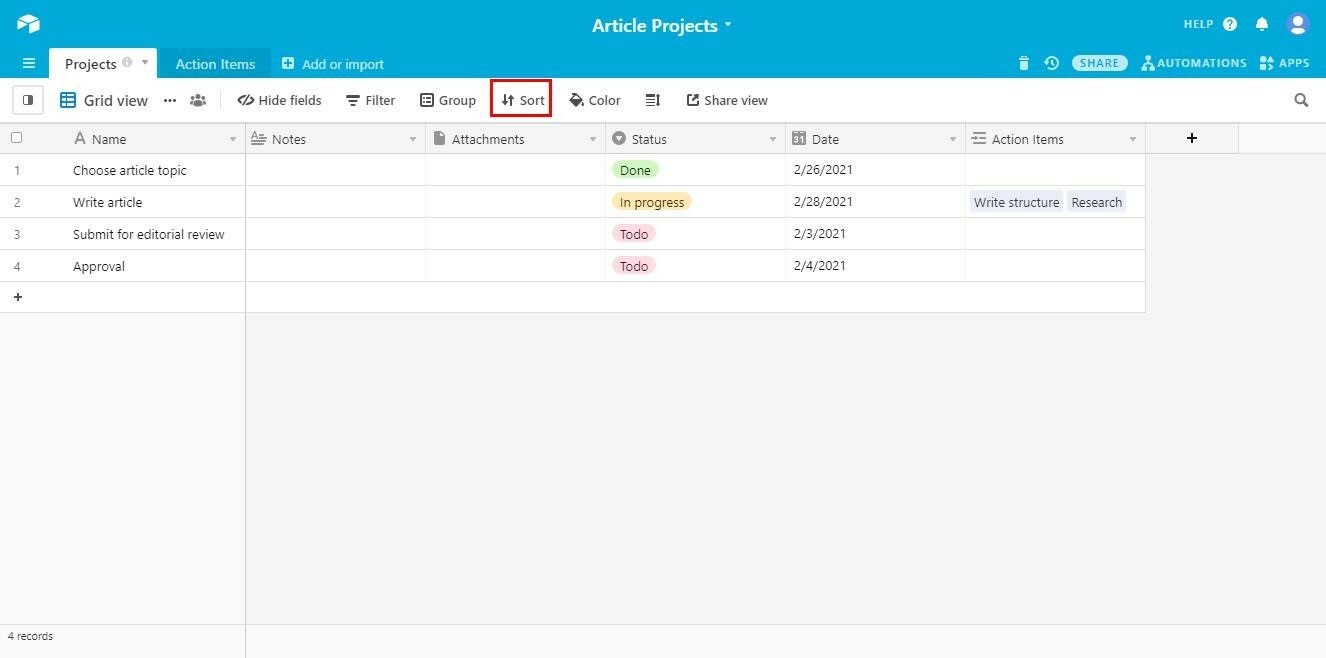 Select Pick a field to sort by


We have selected a field to sort our table by. You get to decide how you want to sort your tables.

Airtable Blocks
Airtable Blocks is a new platform on Airtable that allows users to create useful solutions on Airtable. Airtable Blocks are modular apps that stay on top of your Airtable base. These apps can be charts, timelines, or maps, and they provide new ways to visualize your work. With Airtable Blocks, you can improve your pre-existing Airtable use cases and also build your app workflows in entirely new ways.
The use of Airtable blocks is limitless, and you can learn more about it on Airtable's website or Airtable's Youtube page.


Airtable Pricing
Potential Airtable users usually ask if Airtable is free. The answer is yes. Airtable has a free pricing plan which is not common with most cloud collaboration software. The free version of Airtable is limited, so you can go for the three paid plans to have more features. These plans are:

Airtable Plus.
Airtable Pro.
Airtable Enterprise.
Airtable Free Plan
Airtable's free plan has the most limited features. With Airtable's free plan, you can access essential features like:

The grid
Calendar
Forms
Kanban
Checkboxes
However, you do not get access to Airtable's advanced features:

Airtable blocks
Advanced Calendar features
Custom branded forms
Color and styling options
Password and domain restricted shares.
Personal and locked views
Airtable Free Plan Breakdown
1200 Records per Base.
2GB of attachment storage.
UI customization is limited.
Access to snapshots and revised work history for two weeks.
Airtable Plus Plan
Airtable plus plan is a step up from the free plan. You get so much more than the free plan for a monthly fee of $10 per month. However, you still do not have access to Airtable's advanced features.


Airtable Plus Plan Breakdown
$10/month for each user (annual billing)
5,000 Records per Base.
5GB of attachment storage.
Limited UI customization
6-month revision and snapshot history.
Airtable Pro Plan
The Airtable Pro plan offers a tremendous upgrade over the plus and free plan. You can do so much more with the Pro plan as it provides all Airtable's advanced features. Some of these advanced features include

Airtable blocks
Airtable's advanced calendar features
Brand personalization.
Early access to any new Airtable features.
Airtable Pro Plan Breakdown
$20 per month (annual billing)
50,000 Records per Base.
20GB of attachment storage.
Advanced Airtable features.
1-year revision and snapshot history.
Airtable Enterprise Plan
Airtable's Enterprise plan is specially made for large organizations. Airtable Enterprise is always tailored to suit the operations of the organizations that need it. Thus, it is impossible to put a price on it as the need for it varies according to organizations. So, if you want a fee, you need to contact Airtable to get a price quote.
Furthermore, asides from the advanced Airtable features like Airtable blocks, Airtable's advanced calendar features, and brand personalization, it also offers extra features. With the Enterprise plan, you get more security features. Not only that, but you also get to have access to unlimited workspaces.


Airtable Enterprise Plan Breakdown
It gives access to unlimited workspaces.
It offers additional security and admin features.
One terabyte of attachment storage.
Airtable competitors
Asana Vs. Airtable
We'll be making a quick comparison between Asana and Airtable in this section.


Differences Between Asana and Airtable
Asana is one of Airtable's competitors, and although they are similar, they have some differences. Airtable is more of a spreadsheet-inspired collaboration platform that provides teams with resources or tools to create a flexible workflow. On the other hand, Asana's interface allows you to organize tasks in one place so that every team member knows his/her responsibilities.


Benefits Of Airtable Over Asana
One of the benefits of Airtable over Asana is that Airtable has hundreds of pre-made templates which users can choose from. With Asana, you do not get this which means creating your database on Asana can be more tedious. Furthermore, Airtable has the best customization features you can find on any database or project management tool. You can customize your spreadsheets and fields into so many ways to suit your presence.
Also, Airtable has billing, invoicing, budgeting, and resource management features that Asana doesn't have. In light of this, Airtable makes it easy for small organizations to work with bigger external organizations. Finally, if you want to add more fields to your table, then you should be looking at Airtable.


Smartsheet Vs. Airtable
Smartsheet is another Airtable competitor with some decent features. We will be putting the spotlight on how Airtable differs from Smartsheet and the benefits of Airtable over Smartsheet.


Differences Between Airtable And Smartsheet
By definition, Airtable is an online combination of spreadsheet and database for project management. On the other hand, Smartsheet is primarily an advanced, customizable spreadsheet for project management.


Benefits Of Airtable Over Smartsheet
Airtable offers more field types compared to Smartsheet. Pre-made templates are another reason to choose Airtable over Smartsheet. Again, you can add articles from anywhere on the internet directly to your base using Airtable's google chrome extension. Finally, you can send emails and text messages directly from Airtable's base, maps, charts, etc. And as you might have guessed, Smartsheet doesn't have this.