The transportation business, particularly the taxi industry, has experienced a boom over the past few years with the coming of Uber and Lyft.
With Uber setting a high standard, other companies had to measure up to stay competitive. Features like driver-passenger rating, in-app calls, and cab dispatch have become part of the taxi business.
Besides, Uber's initial appeal to a young, progressive audience proved fruitful as the company went from a losing margin to making a
significant profit
within a few years. And this success story laid out the blueprint for other taxi companies within the industry.
So, if you want to build a platform like the Uber Clone app, this article will show you the development process and the core features to add.
How to create a cab-hailing app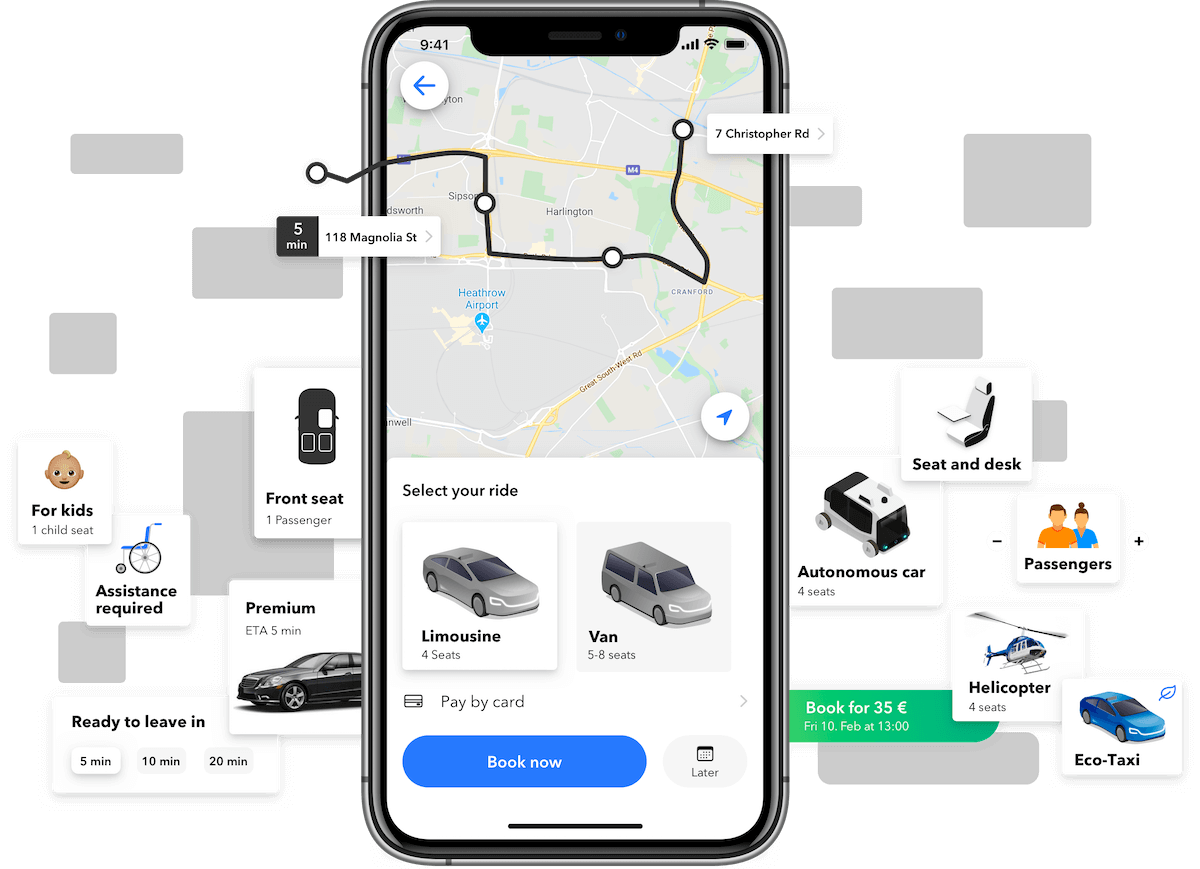 Creating a cab hailing app like Uber sounds like a challenge because it requires a lot of skill and persistence. In the recent past, you needed a team of programmers and QA testers to build a functional app.



But nowadays, NoCode Technology

allows people without any coding skills to create their own app. You can download an Uber like app template and complete the development process in a short time.





So, here are the key stages in Uber like app development:




1. Conduct market research
Before jumping into the development process, you need to survey your potential audience. Who are the users? What do they want in the cab hailing app?
This preliminary market research will provide you with a better understanding of the market and inform your company's objectives.
2. Create an MVP
The
Minimum Viable Product
is like a rough sketch of the potential app that provides potential investors with an understanding of its look and potential. You need an MVP if you want your budget to get approved.
Even if the cab dispatch app project is self-funded, the MVP will provide a tangible starting point.
3. Develop a functional prototype
As part of the MVP, you need to create an app prototype. Some UI design platforms like Figma and Sketch can offer you template options. Alternatively, you can hire designers to conduct
UX research
and create a working prototype. You can also visualize the prototype on
no-code platforms
like Bubble.
4. Choose the right tech stacks
With a clear view of the prototype, the developers can decide on the best tech stack for the project. Nowadays, you can choose SaaS platforms or progressive web apps or focus on native apps.
But whatever app direction you prefer, choose a tech stack like Flutter or React Native. These cross-platform frameworks provide Uber clone open source code for different devices at once. Besides, you always have the option of using
no-code
stacks
for free taxi dispatch software development.
5. Test for bugs and glitches
Once the development stage is complete, test the app for bugs. The last thing you want is to release a glitchy app to a competitive market.
Remember the
Apple Maps disaster
? A few bugs effectively forced Apple to cede control to rivals Google Maps.
You don't want to waste all that money on your free taxi booking software and lose money as a result of bad reviews. So, hire a qualified team of QA specialists to go through every feature.
6. Launch the app
When the app is ready and has passed a focus group test, you can release it to the market. If you use an open source Uber clone framework, you can release the app across multiple platforms at once.
7. Monetize the app
An app can only make money if a dedicated marketing team can craft a monetization strategy. Use ads and subscriptions to get more revenue from your app. Your company can also apply for licensing to make money from the app.
The most essential features of a taxi management software
In the open source taxi dispatch software development era, your company must include certain core features to stay viable. Functionalities like driver-passenger ratings are must-haves for your Uber clone app.
Moreover, you need additional communication features like direct messaging and calls to stand a chance in the market.
So, let's explore other features that your taxi scheduling software must include:
Driver management (fully automated)
The driver management feature is a priority since it helps you keep an eye on your business's 'driving' force. This tool will help you gather personal information about the driver, monitor their current location, and calculate their ETA on every trip.
At the same time, you can use taxi accounting software to monitor fares and tips earned by drivers. Use templates from the
best
no-code tools
to add simplified billing forms to your Uber clone app.
Functional admin dashboard
A taxi management software must contain a centralized dashboard to monitor incoming dispatch info and driver updates. This dashboard provides real-time information about every driver working for your cab hailing company. Besides, you need the drivers to have access to incoming ride requests and control over their workload.
Worldwide geo-coding
Source: Pexels
Building your geolocation features is practically impossible as a small business because you need access to satellite feeds. But some no-code solutions contain built-in maps that allow you to
submit an app in record time
.
Besides, .ost taxi companies sign contracts with reliable map service providers for their geo-location modules. Verified companies can also request the
Maps APIs and SDKs
and other geo-location services from Google.
In essence, your Uber clone app's reliability and overall appeal depend on the accuracy of locations and destination estimates.
Responsive UI
The user experience is a non-negotiable feature on every application. If you want to choose a tech stack or no-code platform template, make sure that the user interface is responsive across all devices.
Besides, don't forget to generate live views when working with an Uber like app source code. These projections will help you understand possible UI issues when working with the app.
Diverse payment options
Source: Pexels
As far as customers are concerned, they can only use a new taxi-hailing service if they are convinced of transaction safety. So, use payment portals like Stripe to secure transactions. And if you want to capture a wider audience, provide diverse payment options, including cryptocurrency possibilities.
SOS buttons
One thing you can never account for in the taxi industry is unforeseen circumstances. Road accidents, DUI cases, and reckless driving complaints are human factors that your company must consider. In this regard, emergency buttons should be present on the app for passengers.
Similarly, drivers also need SOS buttons in cases of disruptive passengers and non-compliant clients.
Arrival and departure information
Google provides
Distance Matrix API
under the Routes API package with Uber clone source code for detecting arrival and departure estimates. This feature must be in your app to monitor trip progress and keep users updated about the estimated time of arrival.
Uber Clone App alternatives
Uber clone apps pop up at a swift pace all over the world. Some of these apps operate within specific niches, catering to specific demographics. Others are limited by location, unlike the
uberall
Uber app.
Here are some worthy cab hailing apps from the past few years.
Bolt

Curb

Taxicaller

Uber Clone App
The Uber Clone App is a worthy taxi app client because it contains some core features that make Uber the best worldwide. Although it has some work to do to reach the other apps on this list, the app shows some promise.
Final words
Building an Uber like app is a demanding task because it requires the input of experts in the development stage. However, you can add a cab-hailing app's core features to develop a viable product for the market. Besides, you need to follow a systematic design, development, and marketing strategy. So, spend some time choosing the right tech stacks and experts for your uber clone app.