The No Code revolution is herе.
The ability to build complex apps doesn't require huge costs, multiple developers or huge wait times to build applications.
The movement is booming with many new applications coming out. It's seriously exciting.
The No Code movement also includes building workflow automation with ease, improving business processes or anything you desire to help with operations and growth.
With a variety of templates to get you started and an intuitive drag-and-drop user interface, you'll be able to bring your website from idea to launch quickly. Whether you want to start with a responsive template or build from scratch. Visual coding and development lets anyone take what's in their imagination and turn it into a working product.

Webflow

Webflow is a website builder that allows you to build responsive websites without code.
Usually, website builders are limited in possible customizations, whereas Webflow users can customize just about anything (from the website perspective). This flexibility and ease-of-use make it a powerful solution for building beautiful websites.
Webflow allows you to create, test, and launch websites without entering any code (or simple HTML scripts if you choose to).
This powerful product allows you to create responsive and attractive looking websites with ease. You can design whatever comes to your mind.
The possibilities are endless with Webflow + We have personally built a lot of complex resource sites using just Webflow.





Bubble
No code also removes the obstacles in software development. Bubble lets you build your own app without having to know any programming languages.
The platform gives aspiring app developers a visual set of components to assemble and launch fully functional end products. A lot of options for functional customization make Bubble a powerful tool for software development and building apps.
The "drag-and-drop" user experience makes it easy to jump in right away and not just see instant results, but work in a familiar environment of other drag and drop landing page and website builders. Bubble allows anyone who has an idea to build, prototype, and launch it into the world. No code opens the gateway for creatives to make their dreams happen, no matter what their skillsets may be.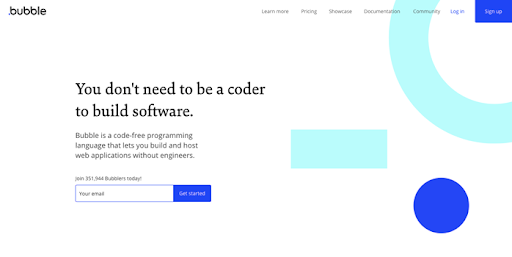 Airtable

Airtable is a spreadsheet-database hybrid and is often referred to as a management app due to its productivity features.
Airtable gives you the functionality of a database, with the UI of a spreadsheet, which is excellent for beginners. Airtable is online and allows you to collaborate with your colleagues, which makes communication easier.
From a database perspective, Airtable is simple to use and offers many integrations with other platforms. All-in-all Airtable is an excellent platform for building database-focused internal tools. It also benefits from a popular template marketplace called Universe, which is incredibly helpful.
Airtable is free to use until you hit 1,200 records. The free tier is also limited to 2GB of attachment space and two weeks of history. The next tier up is the plus tier and will cost you $20/user/month. With this tier, you can benefit from 5,000 records, 5GB attachment space, and six months of history.