The era of dominance for
no-code platforms
is fast approaching as companies look to eliminate the rigors of app development. To this effect, platforms like Bubble are taking over the market gradually.
With the Bubble app builder, companies can enjoy the fast-paced building of apps while reducing their expenses. You can also use customizable Bubble templates to design responsive websites.
According to
Tech Crunch
, tech companies like Plato and Dividend Finance use the Bubble app. This unique endorsement means that Bubble has become a go-to for startups and large companies.
So, let's discover the benefits and features of the Bubble programming app that might interest you.
Features of the Bubble app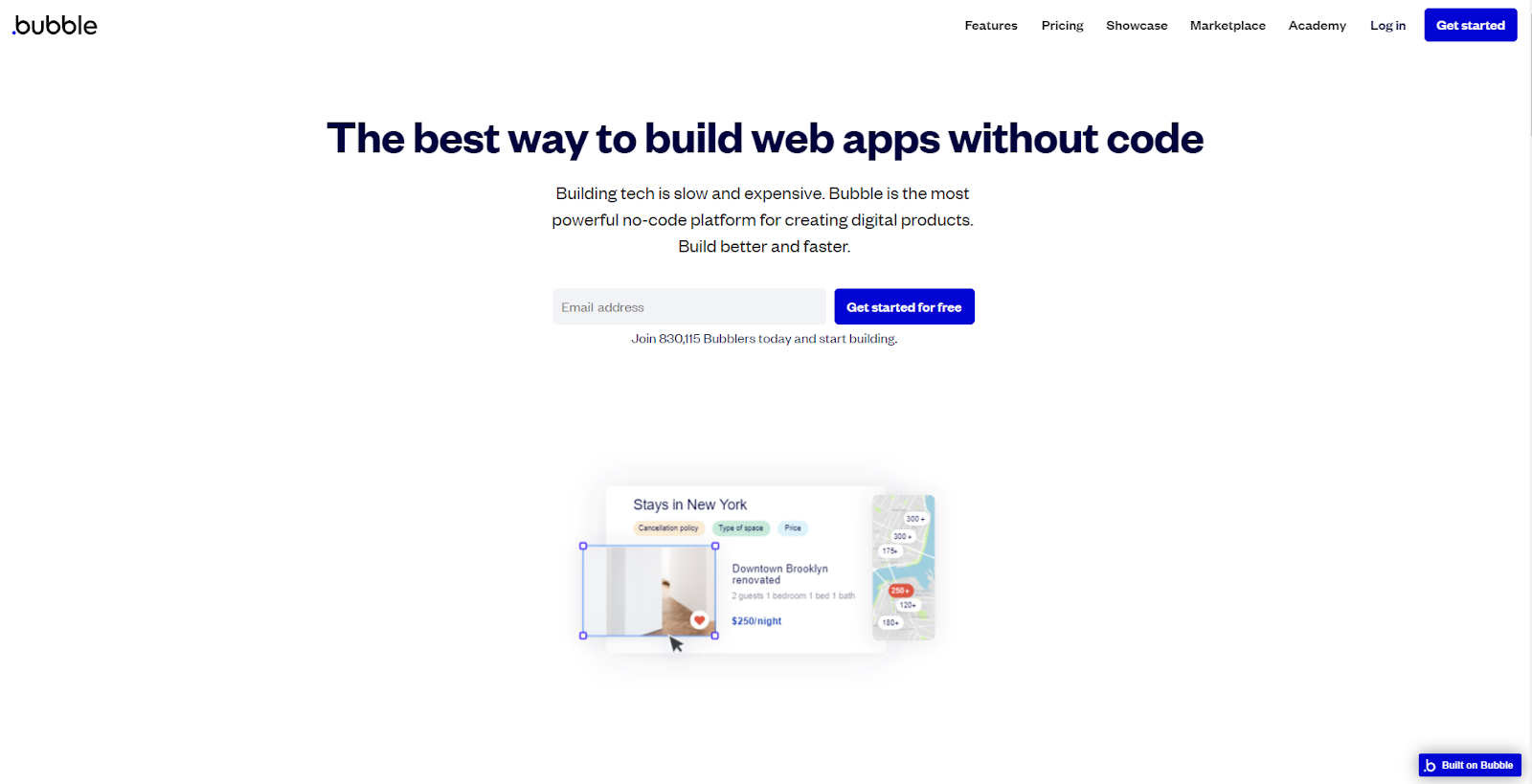 The Bubble app provides several features geared towards improving the user experience and optimizing redundant processes. Let's go through some of the key functionalities.
1. Drag and drop
The smart drag-and-drop feature on the Bubble app Android platform allows you to drag components onto your page or interface. You can easily add multimedia content without knowledge of programming or design aesthetics.
2. Dynamic Content
Bubble connects to platforms like Facebook, gathering user data for analysis and implementation. This access to dynamic content provides smart solutions to design-related problems and also improves the user experience.
3. Multilingual options
Bubble.io supports over 80+ international languages in its extended library. This feature eliminates the stress of translating every content on your page manually. You can also use built-in converters to change formats and currency symbols on your website or app.
4. Version controls and backup
The Bubble social app allows companies to update to new versions automatically. The platform also backs up your data to the cloud. If you encounter issues with the latest updates, you can revert to previous versions without losing data.
5. Secure payment portals
Bubble handles payments for subscriptions and other third-party transactions with safe payment portals like Stripe. You no longer have to worry about held-up transactions and other security issues associated with online payments.
6. Multiple users
Your company can add up to 40 project collaborators to the dashboard. You can also use specialized access request features to limit or expand participation. This collaboration feature extends beyond design and covers marketing and legal departments.
7. Real-time status reports
The Bubble dashboard provides real-time data on projects and consumers. Managers and marketers can monitor the progress reports on specific tasks without having to switch their views.
8. Advanced consumer metrics
Bubble app android provides the ability to gather insightful data on customer engagement just like other
no-code platforms
. With the app, you can generate and automate email marketing campaigns focused on a specific audience. Your business can also optimize content for SEO without any hassle.
9. Seamless integration
You can connect to the Bubble apps marketplace to access other plugins and templates for your app. The platform also has an API connector that can solve any integration problem.
Some of the available Bubble plugins include:
Airtable

Dexi

Audio Recorder

Braintree

Google Analytics
10. Customisable user interface
When you need a virtual design for your product, the Bubble forum allows you to customize them according to your preferences. The dynamic containers provide seamless interactivity to help users navigate your application or website. You can also use a default Bubble template if you don't have the time to customize it.
Bubble apps pricing
During this Bubble.is review, we discovered the company's pricing policy. Most standard features are available for free, but you need to pay to use advanced features.
Here is the current Bubble pricing and the main available features:

Free — Core features, Bubble branding, and support.

Personal (25 USD per month) — All features available on Free, custom domain, email support, etc.

Professional (115 USD per month) — All features available on Personal, two editors, 3 server units, two independent Bubble widget versions, etc.

Production (475 USD per month) — All features available on Professional, 15 editors, 10 server units, 20 independent Bubble widget versions, etc.
You can compare the prices before purchasing the product on the
Bubble pricing page
. If you are working on a short-term project, you can switch to the monthly plans.
Benefits of the Bubble app builder
Companies rely on Bubble to speed up their projects. Despite fierce competition from other analogous platforms, the Bubble app builder has remained a favorite go-to because of its advanced features and
no-code advantages
.
Here are the benefits of using Bubble.io to develop your app or website.
1. Increased development speed
Like most
no-code app builders
, Bubble eliminates the programming stage or reduces the amount of time needed to complete it. As a result, your company can capitalize on speed Bubble solutions to improve productivity and meet project deadlines.
2. Excellent for small teams
Bubble learning is perfect for one-person teams or startups with few employees. Instead of spending time on resources to expand the workforce, you can concentrate on specific aspects and skip redundancies. Besides, you don't need to outsource or hire new specialists every time a new project comes up.
3. Great for idea visualisation
If you have an idea for your product, Bubble will let you visualize the concept without stress. You can check out those new features to see how they work before adding them to your product.
4. Extensive plugin and template libraries
When it comes to customization, Bubble provides a wonderful array of options in the library. You can choose templates with stock multimedia options. Even with the free version, you can work with Braintree and Google plugins. So, you don't need to pay extra cash to acquire these third-party plugins.
5. Exciting features in the Free version
Although the paid version offers the most exciting features, Bubble's free version contains useful functionalities. Play around with the Bubble app free version before you pay for other advanced plans.
Risks of using the Bubble app builder
Despite the massive benefits of using the Bubble app builder, we still have to highlight the risks. Let's go through the most glaring cons of utilizing the Bubble app.
1. API connection issues
This limitation is the most significant when it comes to Bubble.
Bubble's API Connector
cannot process API responses within nested arrays. As a result, developers will struggle to work with massive datasets when using Bubble. Besides, the database is separate from the entire framework, which limits the accuracy of saving data.
2. No trial version
The absence of a trial version or the Bubble app builder is an issue for most companies. We all want to get a sneak peek into the platform before paying for the premium version. But since the app has no trial versions, you cannot enjoy this 'test drive' for free.
Besides, the free version only offers data back up for 12 hours. So, if you can't complete the project within that timeframe, you will lose your data.
3. Limited control over the source code
Since Bubble is a
no-code platform
, that means that users have limited control over the original code. Although users without coding skills don't need to worry about this issue, senior programmers will have to deal with the limitations when working on projects.
4. Responsiveness issues on mobile
Bubble forum users complain about the poor responsiveness of the mobile version. The builder prioritizes only desktop and web interfaces. This limitation affects the user experience of final pages since you cannot visualize the mobile version precisely.
Conclusion
The Bubble app is a wonderful platform for building progressive apps and websites. The builder provides advanced features and an extensive library to facilitate your development process. However, most of these Bubble widgets are not available on the free version. So, you have to subscribe to enjoy the entire range of features.
But the money you pay for Bubble social app is worth its weight in gold. Your company can limit expenses on resources and increase productivity significantly. Besides, users can work with the app without any coding skills. So, get the Bubble app now and start using it for development of your projects.