A fairly new website builder that's taking the internet by storm, Webflow allows anyone to create their own website, without having to code. But is it really worth it? Who is it really for? How much does it cost? And
does no code really work?
In this complete Webflow review we will be answering all of these questions and more!
What is Webflow?
Webflow is a visual, drag and drop website builder. Unlike website builders like Wix or Weebly, Webflow is targeted towards web designers.
It offers a unique product that is both powerful and customizable. Perfect for building high-spec, responsive websites - without writing any code.
1. The Designer module
The first thing you will notice is that the Designer looks a lot like Photoshop. It looks quite busy but there's a lot that you can do here. This is an area that designers will love, but regular folks will take some getting used to.
The easiest way to start understanding and making use of this module is to use
The Box Model
. Simply create a box for each element you need. Next, drag, drop, or overlay them on top of each other.
2. The Webflow CMS
Webflow also offers an entirely
no-code
CMS. The Webflow CMS is entirely modular and allows you to design custom content types for each page. These content types are called Collections, and the Designer module can be used to customise their appearance on the site.
3. Webflow Ecommerce module
Using the Designer and CMS, Webflow Ecommerce allows you to create a completely custom online store. We will look at Webflow Ecommerce features in detail later on.
Is no code worth it?
At WeLoveNoCode, we are strong believers in a
no code future
where anyone can build anything they want.
Advantages of no code include:
Faster development times

Quick changes

Lower costs

And most importantly - no coding required!
Is Webflow really no code?
Yes, it is! However, as we mentioned earlier, Webflow is mainly targeted towards designers. The design interface can be a bit too much if you are a complete novice without any CSS or HTML skills.
What can you build with Webflow
Webflow is a powerful tool that allows you to design custom responsive websites. You can use Webflow to build and launch:
Personal blogs

Online portfolio websites

E-commerce stores
How secure is Webflow?
Webflow promises adherence to state-of-the-art web security practices. It also offers advanced DDOS protection for your sites. Webflow also conducts regular third-party audits on their hosting and website infrastructure.
Webflow's Key Features
That being said, there are some core features that
do
come built-in.
Parallax scrolling and more
It is very obvious from the start that Webflow focuses very strongly on design. You can even integrate multi-step animations, parallax scrolling, and microinteractions.
Security
Webflow also takes security very seriously. Along with automatic backups, you also get a free SSL certificate!
SEO Functionality
SEO is key to the success of your site. Webflow goes a step further than most
no code
website builders. It provides automatic sitemaps and custom 301 redirects.
Ecommerce Features
Payment options
Webflow allows you to accept online payments through various payment services including:
Auto-tax calculator
Another useful feature is the automatic tax calculator. It saves a lot of time by automatically adding sales tax and VAT at checkout.
Social media integration
Webflow also allows you to seamlessly sync products to your Facebook or Instagram store. It helps with cross-selling and running strategic marketing campaigns.
Webflow Templates
One of the best features Webflow has to offer is the collection of responsive templates.
You can select any template you like without worrying about how it will look or work on different devices.
100+ templates to choose from
The best part about Webflow templates is the sheer variety. You can choose from more than 100 templates, many of which are free!
You can also easily filter templates based on use, price, or e-commerce features. Each template comes with a brief description and previews, making it simple to find one that suits your needs.
The average price for a Webflow template is between $50-$80 and each one is 100% customisable.
Comparison with other website builders
Webflow vs WordPress
The major differences between Webflow and WordPress are:
Webflow provides complete design freedom, WordPress is limited to templates

Webflow offers a drag and drop builder with zero need for coding, WordPress needs plug-in support

You can make on-page edits with Webflow, WordPress requires a dashboard

Webflow is a more expensive option, WordPress is free
H3 Popular Webflow alternatives
Webflow comes with a learning curve and can be tough for beginners.
Easier alternatives to Webflow include:
Wix

- comes with a free plan and a simple website builder

Squarespace

- more design functionality than Wix and easier to use
Pricing and plans
When it comes to pricing, Webflow is a bit more expensive than other site builders.
However, this isn't a surprise given its greater control over design.
Currently, Webflow offers six pricing plans - three each for websites and online stores.
Site plans
Basic
At $12 per month, the Basic plan is best for simple websites that need only a few elements like menus and image sliders.
CMS
At $16 per month, the CMS plan is perfect for blogs and content-driven websites.
Business
At $36 per month, this plan is ideal for business websites with more traffic.
Ecommerce plans
Standard
For $29 per month, you get 500 products + all features from the CMS plan.
Plus
1000 products and business features for $74 per month.
Advanced
3000 products + all business features at $212 per month.
Webflow tutorials and support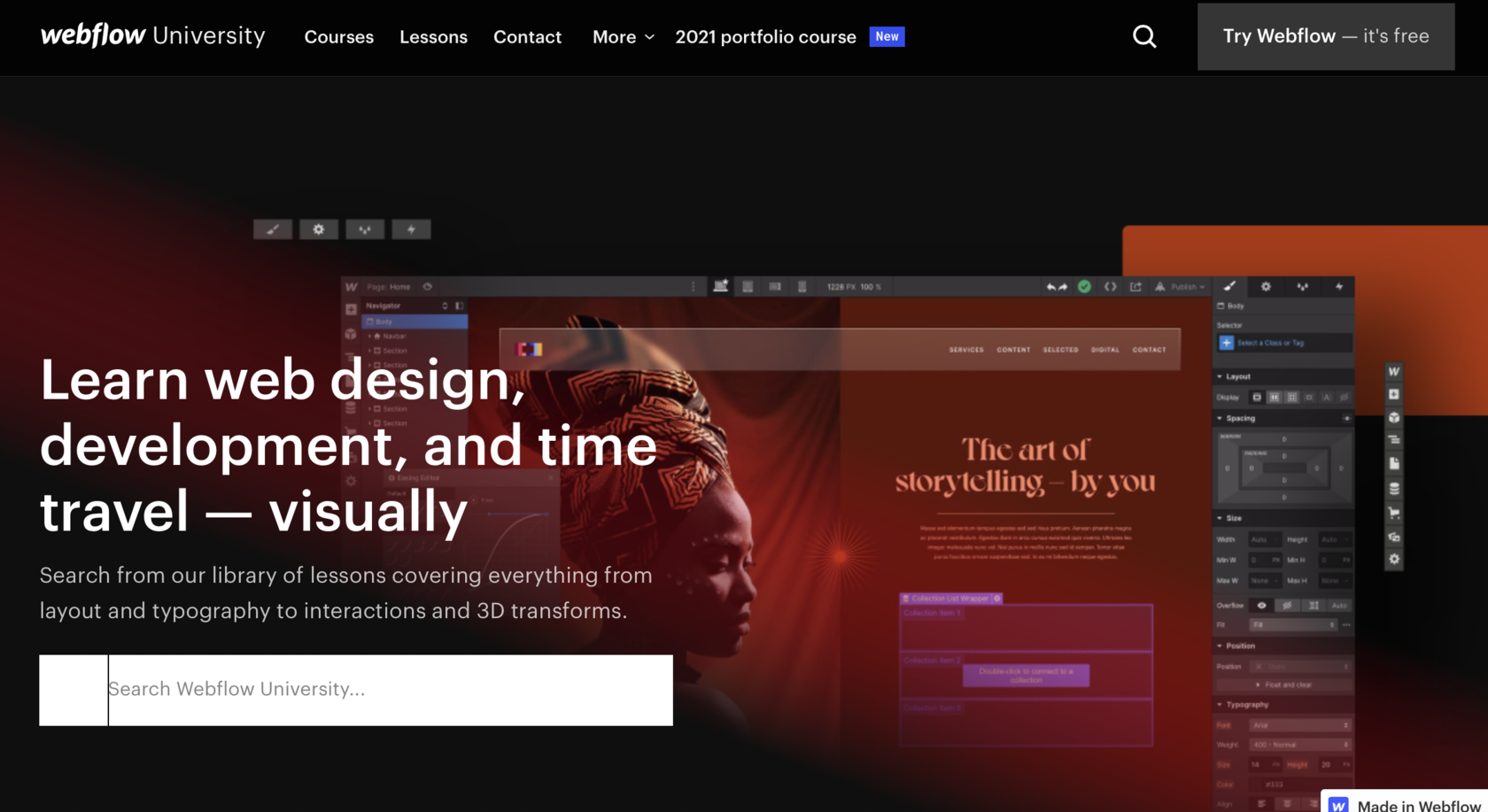 As we mentioned earlier, Webflow is not suitable for beginners with no experience with HTML or CSS. For those with basic experience,
Webflow University
has a ton of Webflow tutorials and guides. They cover everything from the basics to performing specific integrations and customizations.
Webflow pros and cons
Webflow is easy-to-use and allows for unlimited customization. It has pretty clear-cut pros and cons.
Pros
Superb customization tools

A vast range of responsive templates

Dynamic content
Cons
Difficult to use for beginners

Expensive pricing plans

Limited built-in features

No live support
Final words
Webflow is a revolutionary no code website builder that works great for designers. It is a powerful platform that allows users to build highly responsive websites without having to code. Webflow offers an entirely modular and highly customizable CMS, along with useful e-commerce tools. Complete design freedom, in-built SEO tools, and free SSL certificates make Webflow a popular choice for designers.
At WeLoveNoCode, we help businesses test out ideas and perform better in the digital marketplace. We specialize in using
no code tools
like Webflow to build the solutions you need faster than anyone else