What is Adalo and how to create the App

Adalo is a no-code platform for building powerful web and mobile apps that can include payments, notifications, and more. Publish to the App Store, Google Play, and the web!
Before considering Adalo in detail, let's answer the 3 most common questions.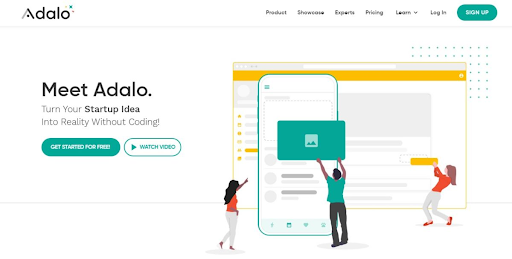 Why choose Adalo?
Adalo allows you to build apps with an intuitive drag-and-drop interface, by using pre-made design elements or by creating your own. It takes the headache out of publishing your apps to the Android or Apple stores— with a subscription plan. If you need any help getting started, the Adalo team has created a series of tutorials to demonstrate how to build some of the more common app features and can assist you with the creation and design process via email.

Who uses Adalo?
Adalo has been used by dozens of startups, small businesses, and enterprises to create custom-built apps. From a personal trainer looking to send personalized plans to his clients to a mobile food-ordering service to a small business trying to streamline internal communication, Adalo has been used by a diverse set of clients. These companies have utilized the platform to either grow and extend their customer base by connecting with them via apps or have developed software to maximize efficiency within their firm by facilitating feedback and communication.


How long does it take to build an app on Adalo?
This is pretty dependent on how complex the functions you want are. With traditional app development, the first version of an app takes about six months on average— with Adalo, you can have a workable prototype done in a day and a more polished version completed within a week or two. The good thing about Adalo is that you can publish multiple iterations of your app, so you can constantly make improvements.



Introduction to Adalo

With Adalo, you can easily create an awesome design for your app using the drag-and-drop components or create your own using the layout tools.
It gives you the ability to add custom interactions, actions, and database configuration without any code, or if you've already got your API, Adalo can integrate with that.


How to Get Started
In this section, you will learn how to get started with Adalo.
1. Visit the Adalo marketing website, create a new account if you don't already have one.
2. Click "Create a new app" after creating an account on Adalo.
3. Choose the type of app you want to build, whether its a native mobile app or desktop web app, select a template or blank screen, enter your app's name, and select your brand colors.


Adalo has Three Basic Concepts
• Components— The building blocks of the Adalo interface.
• Actions— Used to specify what your app should do when you click a particular component.
• Database— Like an Excel spreadsheet, the database allows you to enter data to display to users or collect the data they input into the app.
To get started building your app, think about which screens you want to build, what those screens should do, and what data they'll need to display and capture.

Advanced options allow you to define your data entry/source for your app by creating a new database/setup new API or share databases with an existing application available in your project dashboard.
This process opens the app editor and automatically creates 3 screens on the canvas containing a signup flow and a blank screen with an app bar that you can delete to create your own. If you are using a template, it will show the screens available in the template you are using.




Creating the App
The following steps are the basic process of building an app with a web-view component in Adalo;
Step 1: Create a new app in Adalo, choose a platform you want to build your app on, either native mobile app or desktop web app.
Step 2: Drag and drop the web-view component into the app screen.
Step 3: Paste the website URL into the URL input field in Adalo.
Step 4: Preview your app.