Making money online can be extremely tough for artists, designers, or musicians. As a digital creator, it can be intimidating to learn marketing and social media in order to sell directly to customers.
That's where Gumroad comes in. It offers a purpose-built solution for creators who can't or don't want to spend time marketing their work.
What is Gumroad?
Gumroad is a powerful e-commerce tool designed specifically for artists and creators. It is basically an easy-to-use shopping cart that takes away the need to be tech-savvy. Gumroad boasts several features that make it a one-of-a-kind solution for creatives. It makes it really easy to sell online, especially if you don't have any tech experience.
How does Gumroad work?
First things first. Gumroad is not an online marketplace for artists. It is a platform that allows you to build your own website or page -
without any coding
, of course. It then allows you to create a link for the artwork you want to sell. Through this link, your clients will then be able to purchase your work. All transactions happen within the app.
Who does and does not need Gumroad?


Since 2011, Gumroad has been helping artists, musicians, and designers sell their content online. The platform is ideal for creators who aren't that tech-savvy or would rather just focus on their art.



But as we mentioned earlier, Gumroad is a very specific tool. This makes it extremely convenient for certain people but not for others. For example, even as an artist, you can't really sell your services using the platform. It is limited to one-off products only. It's also designed to be very simple. If you're fairly experienced in online e-commerce, this can be frustrating.





How to get started
To get started, all you need to do is:
Create an account. This is free at this point, but we will cover pricing later in the guide.

Next, set up your payment/credit card details.

Gumroad will then take you to your online portfolio. Here you can add a photo, a short bio and upload your work.

Once done, you will receive a link that you can share with anyone.
And that's it. Congratulations...you are now a registered Gumroad seller!
Do you need any Gumroad tutorials?
While there are many Gumroad tutorials out there, the truth is you don't. Gumroad is a perfect example of what
no code technology
is all about! Getting started is extremely simple and the interface is super basic. There really aren't any technical settings that you might run into. In fact, most artists and creators are impressed by how intuitive it is.
5 ways to promote your Gumroad portfolio
So far we've looked at how easy it is to set up your online portfolio on Gumroad. But how do you actually get clients to visit and buy something? Let's take a look.
1. Start a Blog
Pour your heart out. It doesn't matter where your blog is, what matters is that it's authentic. You can link to your Gumroad portfolio, and maybe talk about what a certain piece represents. Of course, it will take time to build a sizeable following, but if you stay authentic, your readers will become your first customers.
2. Don't discount social media
You don't want to spend time trying to become an influencer. That's probably the only reason you're looking for tools like Gumroad. However, social media can be a powerful tool for getting prospects. Forget Instagram and Facebook -
Twitter
is the place for you!
3. Affiliates can sell for you
It doesn't matter if you don't have thousands following you. Gumroad also allows you to promote your products with affiliate marketing.
4. Discounts and promotions
Everyone loves a discount. With built-in discount features, Gumroad allows you to offer coupons and promotions to your customers.
5. Send emails!
Lastly, email marketing is one of the best ways to promote your products. You don't need much experience - just a few emails and a
nifty little email marketing tool!
Gumroad Features
Don't get fooled by the simple interface. Gumroad comes packed with useful marketing tools and features.
1. Checkouts and payments
The Gumroad shopping cart makes it very simple for buyers to checkout and make payments. Customers can pay you via credit card or
PayPal
. You get a deposit in your account every Friday.
2. Customer accounts
Gumroad also allows customers to create an account where they can store their purchases. This comes in handy for selling digital art or content.
3. Streaming
This useful feature allows customers to view their purchases instantly without downloading them. It works great for music and video files.
4. File delivery
Gumroad allows you to send files directly to a customer's Dropbox or Kindle.
5. Versatility
Gumroad isn't just limited to digital art or products. It caters to all kinds of artists and selling physical pieces is quite easy.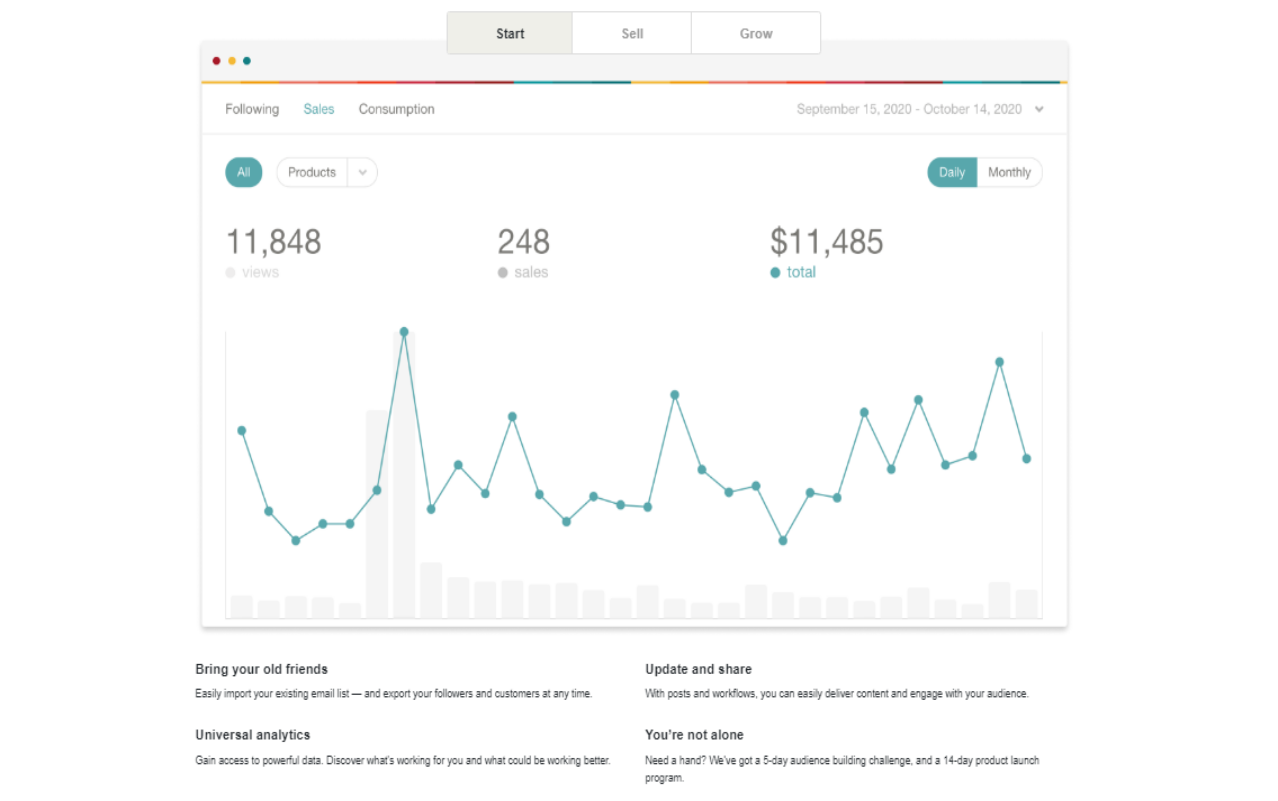 6. Analytics and reporting
Perhaps one of the most useful features, Gumroad offers powerful analytics and reporting. This can help you understand your performance and how to grow your business.
7. Customer service
Gumroad also allows you to give your customers a personal experience. You can send them automatic thank you messages, as well as promotions and discount codes.
8. Widgets
Another useful feature is the 'Buy my product' widget that you can include on your website or blog. This will take customers directly to your Gumroad portfolio.
Third-party integration
Looking to integrate Gumroad into your website, blog, or email marketing list? Gumroad integrates easily with the following:
WordPress

Tumblr

Drip

Covertkit
Gumroad membership and pricing
Gumroad offers two pricing plans:
Free account: Unlimited products and sales at an 8.5% commission and $0.30 per sale. The plan also includes 4 updates per month and 1 automated message

Professional/Premium account: $10 per month (or $108 annual) subscription. You get unlimited products and sales at 3.5% commission and $0.30 per sale. The plan also includes unlimited updates, automated messages, customisations, and more
Advantages and disadvantages of Gumroad
Gumroad is one of the best
no code e-commerce tools
out there. The platform offers distinct advantages and useful features for artists and creators. It isn't perfect, though, and has a few disadvantages as well.
Advantage:
Subscriptions & membership
Digital products aside, Gumroad also allows you to sell a subscription or membership. This is useful if your product is a tutorial or a course.
Advantage:
Popular payment methods
Almost everyone has a credit/debit card and PayPal is almost universally accepted.
Advantage:
Customisations
With Gumroad, you can set up your portfolio just the way you want to!
Advantage:
License keys
If you want to sell software, Gumroad generates automatic software keys for you.
Advantage:
Easy e-commerce
Gumroad is by far one of the easiest e-commerce platforms out there. Period.
Advantage:
Wave pricing
A unique feature, wave pricing allows you to set up custom promotions quite easily. For example, "20% off for first 10 customers" will automatically go down to the original price once 10 purchases have been made.
Advantage:
Affordability
Gumroad is very affordable when compared to most e-commerce platforms.
Disadvantage:
You can't sell services
Gumroad only allows you to sell products. You will have to look elsewhere to sell your services.
Disadvantage:
Limited analytics
Gumroad analytics features, while powerful, are quite limited in terms of advanced capabilities.
Disadvantage:
No trials
Gumroad doesn't have any free trials. However, the affordability of the free plan more than makes up for it.
Disadvantage:
Gumroad support
Gumroad is quite lacking when it comes to support or customer service. There aren't any phone numbers or live chat options. The forums aren't that great either.
Disadvantage:
Issues with automatic VAT feature
A large number of people have reported issues with the VAT software either glitching or refusing to work at all. This can get frustrating very easily.
Final words
If you are an artist or digital creator looking to sell your work online, Gumroad is the easiest way to do so. A powerful e-commerce tool that requires zero coding, it allows artists to create custom portfolios to sell from. Popular features include easy checkouts, secure payment methods, and seamless file delivery. All this makes Gumroad an ideal choice for creatives.
At WeLoveNoCode, we help you sell better in the digital marketplace. We specialize in using
no code tools
like Gumroad to build the solutions you need faster than anyone else.