Looking to build a dating app like Tinder? It's not a bad idea!
Gone are the days when people used to come across their special someone in a bar or cafe.

Dating apps have been quite popular for the past few years. And due to the Covid-19 pandemic, their popularity and social acceptance have skyrocketed.
With over 6 million downloads in January 2021, Tinder has a monthly app revenue of over 64 million USD.

And it doesn't end there. The entire dating app market was valued at 3.08 BILLION USD in 2020 alone!
So now that we have seen how profitable it can be, how do you get started building a dating app?

In this article, we will cover everything: rrom building an app without writing any code, to monetizing it and actually making money!
Let's get started.



Before you create a dating app...

Before you get started with creating a dating app, there are a few things to keep in mind.
There are already more than 1500 dating apps out there.
To make sure your app is a success, there are three main things you need to do:


Study the competition

The best way to begin doing this is to look at top-tier dating apps like Tinder or Bumble.
Analyze their features and key similarities and differences among them. Thorough competition analysis will help you understand what works and what to avoid.
Keep in mind though, there's no point in doing the same thing as everyone else.
Your dating app should never be an exact clone of some other app out there.


Define your audience/niche

For your app to be successful, it needs to stand out from the crowd. Building a dating app for a niche market can give you quite an edge.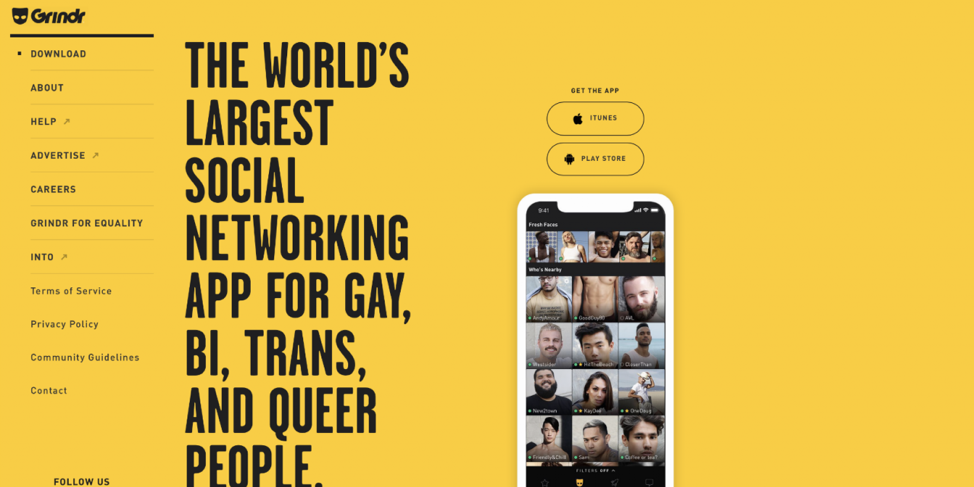 (Source: Grindr, Alt tag: "Yellow Grindr web page with app screenshot")

Some popular niches include:
● Food preferences (Dine)
● Sexual orientation (Grindr)
● And even pets! (Purrsonals)


Fulfill user needs

You have to make sure that your app not only fulfills user requirements but is actually the best one out there at doing so.
To do this, you need to create an elaborate and detailed profile of your average user. Answering the following questions will help:

● What age group is your typical app user?
● What are their gender and sexual orientation?
● What sort of lifestyle do they lead?
● Are there any particular interests or hobbies that they share?
● What problems do they face when looking for a date?



What features make the Tinder app so popular?
1. The swipe game: Tinder's template

One of Tinder's most defining features is its game-inspired template. All you have to do if you like someone's profile is swipe right (or left if you don't).

This easy interface makes the entire experience incredibly simple and fun.


2. Tinder's matching algorithm

This is how the Tinder matching code works:

● People are ranked by their attractiveness, which is judged by the number of right swipes or likes they received
● More right swipes = a higher score
● People with similar score rankings are shown each other's profiles in the app

The matching algorithm is probably the most important feature in your app.
And while your algorithm can be based on any of the following:

● Location
● Preferences
● Other calculations or AI

Keep in mind that most dating app users consider attractiveness and similar interests as the two most important factors.



How to build a dating app like Tinder

So how do you start building a dating app like Tinder?
Building a MVP is the best way to go as it will save you valuable time and resources.
You can learn more in our step-by-step guide for building a MVP. For now let's take Tinder as an example and look at key features you need to include.


Important features to include in your app
Setting up a user profile: sign-in and registration

A quick sign-in and registration feature using users' social media accounts is very important. The user profile section should also import hobbies/interests from social media.


Geolocation

Location is necessary so that users can choose where they're looking for a soulmate.


Search Filters

Users should be able to set search filters for specific preferences to search for potential partners.


Distance

Users should be able to see how close or far a potential match is from them.


Gender

Unless your app is designed for gay men or women, it's necessary to include and display the gender of each user.


Age

Age is another important factor users consider when looking for a match.


Swiping

As discussed earlier, swiping can add a measure of fun and simplicity to the entire experience.


In-app Chatting

A built-in chat feature with GIFs, stickers, and emojis so that users can start getting to know each other as soon as they are matched.


Push Notifications

Reminders, match notifications and chat alerts are key features to include.


User Blocking

Safety and security are paramount. It is important to have a blocking feature to protect users from malicious or harmful intent.


Tinder Passport

Tinder Passport allows users to match with and virtually date people from anywhere around the globe. Including such a feature can give your app an edge.



Dating app development: Structure and Design

Now that we know the key features to include, let's move on towards dating app development!


Pick a catchy name

The name you pick will be your brand identity, so make sure it's short, snappy, and easy to remember!


Design an amazing UI/UX

Pro-tip: keep it as simple and intuitive as possible!


Promote your app

A killer marketing plan can go a long way towards a successful dating app!


Tech stack

These are the tools you will need to develop your dating app backend:


Selecting a development team

There are 3 main factors you need to consider when choosing your developers:

● Expertise
● Hourly rates
● Previous client reviews

Analyzing these before signing the contract will save you a lot of headaches!


How much does it cost to make a Tinder app?

The cost of developing an app depends on the features included and the expertise of the development team.

But, you can cut custom development costs by taking a no-code approach and using a dating app builder like Bubble to make a Tinder app!



Monetizing your app

There's nothing wrong with earning money by helping people find their soulmate. In fact, the matchmaking industry has been around for a very long time!
Here's how you can monetize your dating app:


In-app purchases

Offer people the chance to access premium features via making in-app purchases.


Premium subscription

Subscription-based access to premium services can be a great way to generate revenue.


Local partnerships

Partnering with local brands is always a good idea. You can get them the exposure and recognition they need in return for a nice fee!



At the end of the day...

Whether you hire a development team or use a dedicated dating site builder, building your own dating app can be quite a lucrative investment.
Do let us know if you found this guide helpful, or if you have any further questions...
All you need to do now is to go and start building your app. Good luck!